Servicing and Mechanical Repairs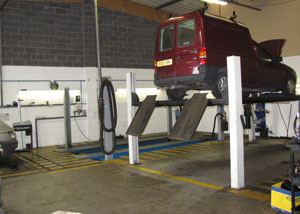 Elm Tree Garage is fully equipped to cater for the latest technology in modern vehicles but we also specialise in older, classic vehicles.
Whether your car is in need of a service or you suspect your vehicle has an electrical or mechanical fault, we have the technicians to help. From a basic change of oil to a complete engine strip down, all of the work we undertake is carried out to Motor Codes standards and the manufacturers' specifications.
We are fully equipped to work upon all makes and models of vehicles and can ensure that all work is carried out to the highest of standards for the lowest of costs.
Servicing
Shock absorbers
Brakes
Cam belts
Clutches
Electrics
Exhausts
Gearboxes
Electronic Management Systems
Steering
Suspension
Transmissions
Tyres
Windscreens
We use only the highest quality parts and oils and our specialist diagnostic services are carried out using state-of-the-art equipment. We take pride in our work and provide you with a personalised service at a very affordable price.
Courtesy Car available. Free pick-up and delivery with a 10 mile radius